Guided trekkings in Tuscany Italy
Trekking tours in Maremma Toscana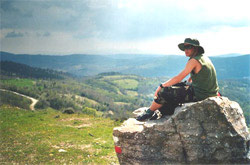 During our guided trekkings you will discover an untouched and "wild" region of Maremma Tuscany. The territory has always been criss-crossed by a dense network of country lanes and pathways that in the past were vital communication routes between the urban centres and places of work and trade. The abandonment of agriculture and the closure of the mines have led to an inexorable loss of pathways. For lots of years many tracks have been covered by thick vegetation. It is only during recent years that several of them have been cleaned and an extended network of trails has been created for hikers.
Most of the treks follow easy to walk trails, some through thick vegetation and some over fields and through woods without proper paths. We recommend waterproof trekking shoes for crossing small rivers. On most tours you can also participate only half way. This flexibility makes the treks suitable for all hikers, including those with minimum fitness. You will be guided by an experienced and knowledgeable guide, who holds a recognised qualification from the Tuscany Government.
Itinerary
Monday:

Trekking "Le Roste": 10.00 start at the hotel, 7 km, height 400 meters downhill, Approximately 3 hours, highest point: 750 m, degree of difficulty: medium. You will be provided with a picnic which can be carried in a rucksack, return to the hotel with minibus around 14.00 ;

On this unique tour we walk downhill along paths, which were used by the miners in former centuries, travelling through meadows and chestnut and oak trees woods where we will discover ancient. A unique and bizarre landscape of "red mountains" is waiting for us at the end of the tour. These mountains are the remainder of the copper mines of the 19th century. Here the copper rich rocks from the nearby mines were towered up. Using an electric-chemical process the copper was washed out of the minerals. The rain changed the remaining material into rugged bare red mountains.


Tuesday: Trekking "Le Cornate & Poggio Mutti": 11.00 transfer by minibus (10 minutes), start trekking in Gerfalco, distance 8 km, height 500 meters, duration 3 hours, highest point: 1060 m, degree of difficulty: medium, a hot picnic will be available , return from Gerfalco by minibus around 15.30. (Alternative: return to hotel after picnic)

After visiting the picturesque medieval village of Gerfalco we walk up a small path to the ridge of the "Cornate". In former centuries these mountain slopes were populated and cultivated. Over time rare plants and animals have taken over producing a wild landscape and a rare new ecological balance has been established. During most of the tour we have a nice view to the coast and the island of Elba. We pass by a former famous quarry of marble, which provided the marble for the Cathedral of Siena. In the afternoon we climb the "Poggio Mutti", where we will find lots of entrances of former mines and natural caves hidden in thick evergreen bushes. Previously, the Etruscans mined minerals here and the numerous traces of the different mining epochs have become mixed.



Wednesday:

Day off: Proposal for an excursion by your car or by our minibus: Trekking in the Natural Park "Scarlino", relaxing at one of the most beautiful beaches of Tuscany, "Cala Violina", and a visit to Massa Marittima.



Thursday:

Trekking "Around the Poggio di Montieri": 10.00 Start at the hotel, distance 8 km, height: 200 meters, duration 3 hours, highest point: 900 m, degree of difficulty: easy. A picnic will be provided which you will carry in your bag, return around 14.00

The path leads uphill through a chestnut wood to the first view point, where we will enjoy a fantastic view towards Siena and the coast around Grosseto. We will watch the birds of prey fly around the slopes. Rough, unspoilt and mountainous landscapes and breathtaking views are the highlights of this trekking. On the way back we wander through former cultivated chestnut woods. Roasted chestnuts and chestnut flower were one of the main food supplies in former days. Now wild boars and other animals enjoy the nutritious meal before the winter months.



Friday:

Day off: Proposal: Excursion to Siena with public bus or participation on picnic excursion to the river Merse with a visit to the monastery of San Galgano.



Saturday:

Trekking "Montemurlo": 10.00 start at the hotel: distance 10 km, height 400 meters, duration 4 hours, highest point: 840 m , degree of difficulty: medium, picnic will be provided which you can carry in your rucksack , return around 15.00; (Alternative: Return to the hotel after lunch)

We walk from Montieri downhill to the chapel "Madonna dei Castani", which played an important part in the social development of Montieri. In the valley the landscape changes from woods to meadows, which are used for extensive herding and we start our uphill climb to the "Monte Murlo". The peak offers a fantastic view to Montieri and the surrounding valleys.
Would you like to receive further information or do you want to book a room in our hotel? Please write (reception@hotel-toscana-tuscany.com) or call us (0039 0566 997700) ! We will be glad to help you.