Switch to our new Hotel Maremma Prategiano website with the latest fotos !
Quad excursions in Tuscany
Tours in ATV Maremma Toscana near Siena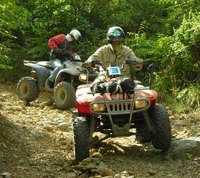 We work in cooperation with a Sport Association situated in Montieri: 75a Avventura"
Simone and his team offer a definitive exciting experience: Quad Excursions. Quads, also known as ATV and the passion for this sport is quickly on the rise. The quads carry a 4-stroke engine of 330cc and can seat a max. of 2 people. These machines are designed for trips in all types of terrain and are both quiet and comfortable. A tour by quad in Tuscany is an exiting experience.
The constant presence of your guide with the appropriate tools for support and assistance guarantees safety and allows everyone to learn the basic driving techniques appropriate for every situation.
The automatic transmission and comfortable driving position enable greater concentration on steering and accelerating (a lever operated by the right thumb) that become fundamental elements of driving: you steer by rotating the handlebars with the assistance of the gas. After a little practice, you come to realize that shifting your weight in the seat is useful and very similar to the demands of two wheels.
The powerful engine and the considerable distance from the ground allows passengers to face the demands of going offroad with calm assurance. Try it! Here is the map of our tours: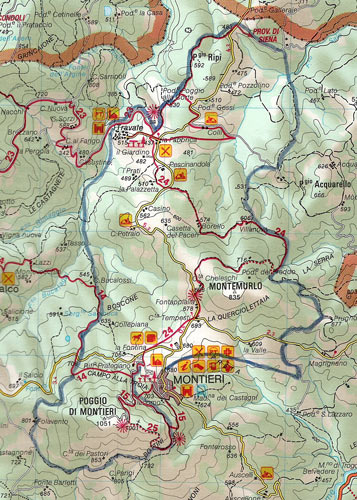 Prices for guided tours:

Half day tour (2 - 2,5 ore): Euro 95 / quad for one person, Euro 105/ quad for 2 persons
Would you like to receive further information or do you want to book a room in our hotel? Please write (reception@hotel-toscana-tuscany.com) or call us (0039 0566 997700) ! We will be glad to help you.