Switch to our new Prategiano website with the latest fotos !
Mountain biking in Maremma Toscana
GPS MTB tours in Tuscany Italy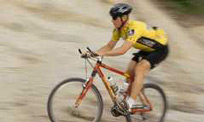 The rough beauty of the Maremma Toscana landscape makes mountain biking in Tuscany a pleasure.
Here in the Alta Maremma, you will find incredible uphill hikes, great views and grazing downhill. The bike trails - far away from asphalted streets - can be changed, shortened or lengthened, depending on your preferences.
Some bike and cycle tours start and finsh at the Hotel Prategiano. On these tours you have the possibility to meet the riders and hikers for a picnic lunch. If you would like to spend a bike-free afternoon, you can get a ride back to the hotel with the picnic bus.

Bring your own bike or rent one of our mountain bikes. You will find at your disposal a space for keeping your bike and a place for bike-cleaning.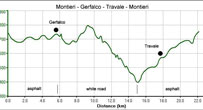 MONTE DI PRATA: After a long warm-up course and a short, steep uphill climb you will be rewarded with a fantastic view of the whole of Maremma Toscana, with Corsica at the horizon. Kilometers: 30, Altitude: 600 meters

MONASTRY SAN GALGANO & CASTLE LURIANO: After a fast downhill to the valley of the river Merse, you enjoy the typical landscape of Tuscany biking along fields and medows. You will visit the monastry San Galgano, bike along an antique trail called "Strada della Maremma" with several ruins of former posting houses and the view to the castel "Luriano". The picnic at the river Merse strengthen you for the uphill bike back to the hotel. Example tour on Googleearth total kilometers: 41,8; total elevation: 950 m; 11,8 km asphalt 13,2 km white roads 16,8 km trails

ANQUA: You discover the impressive Villa Anqua, the Etruscan baths at the Galleraie and the picturesque village of Travale. You will physically feel the change from the Maremma wilderness to the Senese soft, hilly landscape of Tuscany under your wheels and in your body. Kilometers: 49, Altitude: 900 meters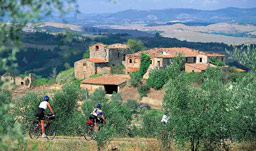 CORNATE: This morning hike has you climbing not one, but two summits: Ritrovoli and Le Cornate. Wonderful views, with the landscape falling away under your wheels in the downhill races, and then a picnic by the old silver mines in Gerfalco - just some of the highlights on this tour. Kilometers: 35, Altitude: 1050 meters

NATURAL PARK BANDITE DI SCARLINO: A seemingly endless web of trails cross each other in the Mediterranean "Macchia" in this Nature Reserve. The trails lead along coastal shelves and lonely sandy beaches. Here you can bike some more or just relax and hang out on the beach, your choice. Kilometers and Altitude: flexible

CHIUSDINO: Bike on narrow forest trails until you reach the medieval village of Chiusdino. There is a bar on the Piazza, and you can stop for a drink. After a steep downhill race you will get some refreshments by the river Merse, just to pump up our spirits for the last, steep return to Montieri. Kilometers: 35, Altitude: 650 meters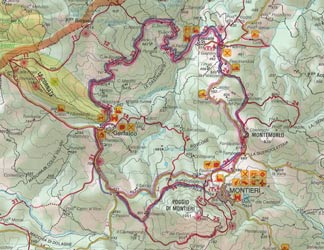 Special services for bikers ":
detailed cards and tours proposals
free download of several tours to your GPS
lockable bicycle room, place for reparations and cleaning
emergency service (pickup with the mini bus)
transfers by mini bus
washing machine at your disposal
possibility to rent front suspension mountain bikes
abundant breakfast buffet
picnics in the countryside
possibility for take-away picnics
dinner with respectively 2 "Primi" and 2 "Secondi" at your choice (with possibility of a second biz), salad buffet, small choice "a la carte"
Would you like to receive further information or do you want to book a room in our hotel? Please write (reception@hotel-toscana-tuscany.com) or call us (0039 0566 997700) ! We will be glad to help you.