Switch to our new Hotel Tuscany Prategiano website with the latest fotos !
Hiking in Maremma Toscana
Walking in Tuscany Italy
Alta Maremma - an untouched and wonderful area of Tuscany.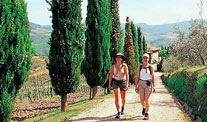 Central location for sightseeing and outings to the sea
Comfortable climate at 750 metres above sea level
Hidden, medieval villages and famous sights
Untouched nature as far as the eye can see
Different vegetation zones
Rifugio Prategiano lies 750 metres above sea-level on the slopes of the "Poggio di Montieri", minutes from the village of the same name. At this altitude one enjoys a refreshing climate even in the summer months.
From here there is a panoramic view of the seemingly endless, untouched hilly landscape of the Alta Maremma. The variety of animal and plant life is awe-inspiring. One can experience various landscapes such as the thick native oak and chestnut forests, the typical Tuscan scenery of pines and cypresses, olive groves, vineyards, as well as the evergreen plant world of the Mediterranean "Macchia." You find a well marked and extended network of hiking trails starting directly in front of the hotel.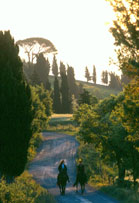 The hiking tours offer fantastic views and lead along gravel roads or small trails up to 1000 meter above sealevel. Most walking tours in Tuscany are of an intermediate level. Water proof hiking shoes are recommended for crossing small rivers. Please find below a list of possible tours. Here you can see a map of one of our favorite tours "Around the Poggio of Montieri". If you would like to have a look at a map that shows further trails and more of the surroundings of the hotel, please click here.
Round trip tour around the "Poggio di Montieri": (10 km, height 200 meters)
Round trip tour from the hotel to the top of the Poggio di Montieri", 1051 m: (4 km, height 400 meters)
Round trip tour from the hotel to the village of Gerfalco: 12 km, height 300 meters)
Round trip tour from the hotel to the village of Travale: 14 km, height 300 meters)
Round trip tour from Gerfalco to the Top of the "Cornate" (1060 m, natural Park): 8 km, height 400 meters)
Round trip tour from the hotel to the village of Montieri: 3 km, height 100 meters)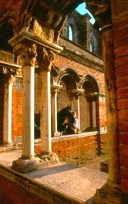 The region around medieval Montieri is not only an oasis for those looking for walking holidays in Tuscany and nature lovers. If you are interested in culture and history, you will find this an ideal base for exciting outings to the most beautiful sights in Tuscany. From this unique location between three Tuscan provinces, it is not far to the famous towns of Florence, Volterra, Pisa, Massa Marittima, San Gimignano or Siena. In addition, the numerous small medieval villages in the immediate vicinity, through which few travellers venture, are particularly fascinating.
You will also find deserted white sand beaches in the nature park near Follonica - enticing to those looking for rest and relaxation after day-long visits to Roman churches, abbeys, nobles' estates, archeological sites and museums.
Hotel Toscana Tuscany - HOME
Would you like to receive further information or do you want to book a room in our hotel? Please write (reception@hotel-toscana-tuscany.com) or call us (0039 0566 997700) ! We will be glad to help you.