Switch to our new Hotel Tuscany Prategiano website !
Hotels in Tuscany, Maremma Toscana
Accommodations at Hotel Prategiano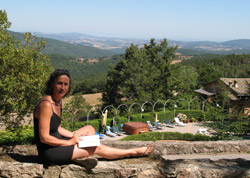 Wonderful Tuscany!
Discover the countryside of Maremma Tuscany on horseback, by bicycle or on foot. Take in the beauty of Tuscan landscapes. Feel the cool mountain air, the warm southern sun on one's skin. Explore picturesque former country seats of the aristocracy and old crumbling farms. Wander among ancient monasteries, through medieval villages, primeval forests and along blossoming fields. Never far away is a clear sparkling river, and from the next hill you are bound to see the ocean and the coast of Maremma Tuscany.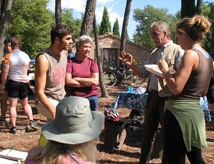 Here in the heart of the Alta Maremma Toscana, one finds Hotel Tuscany Prategiano. The historical symbol of this hotel - Giano, the God with two faces - symbolises vision to all sides: both to the outside and to the inside, to the present and into the future.
Newcomers immediately experience the peacefulness that emanates from this countryside. Former strangers quickly become friends. Joint activities are the foundation for future friendships and sometimes more. The already traditional midday picnic offered by the hotel wakes the Italian love for life and a certain southern lightness of being - days amongst friends - days on which one feels the Tuscany fascination closer to the heart.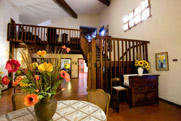 Spend the evenings sitting around the open fireplace in the hall of this agriturismo in Tuscany reminiscing over the past day's activities, or discussing plans for the next day. While dusk creeps over the hills, the slopes of the "Poggio di Montieri" are once more silent, but for the song of the nightingale and the cries of the owl. The coming days promise new insights and views of this awesome landscape and its joy for life.
Would you like to receive further information or do you want to book a room in our hotel? Please write (reception@hotel-toscana-tuscany.com) or call us (0039 0566 997700) ! We will be glad to help you.